About Bare Steel in Regina, SK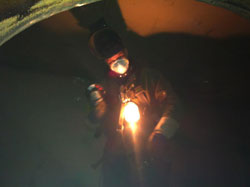 Bare Steel has been serving Regina and the surrounding areas since 2009, offering a range of mobile welding and custom steel fabrication services. Our exceptional workmanship and skill set ensures reliable, quality work for a variety of steel materials. We are available for general repairs as well, and have steel stair railings manufactured in-house. The experienced and professional craftsmen here are happy to meet your needs in a wide variety of projects, big or small. Bare Steel specializes in cast, aluminum, and stainless steel products.
We also offer B Pressure welding and fabrication – we are CWB certified. The team at Bare Steel has new construction expertise to take on largescale projects such as building bridges, erecting buildings, and constructional steel construction. Bare Steel supplies plenty of manpower to companies in Regina, too. For your fabrication, repairs, and other steel construction needs, let us know how we can help. Our 24 hour services are here for you.