Comprehensive Services at Bare Steel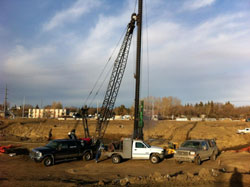 Bare Steel's services are unlike any other in the Regina area. We have a variety of skills that have been carefully tuned to assist with cast, aluminum, and stainless steel products for industrial and commercial businesses. Whether it is a repair or new construction, we have got you covered.
Mobile Welding Service
Bare Steel is a company serving the welding needs of customers in the Regina area. Our welding business is a one-stop mobile welding shop to meet the needs and demands of any welding project comprising all types of alloy metals including steel, stainless steel, iron, titanium, aluminum, brass, and copper. You won't find a locally owned Regina mobile welding company with the reputation of quality workmanship coupled with superior customer service. Not all metals are created equal therefore each welding project has to be approached with undivided attention in order to execute a job that will result is a satisfied customer.
Custom Steel Fabrication
Our custom services allow you the freedom to choose exactly what you are looking for when it comes to metal and steel products. We cater to a variety of industries such as food processing, kitchen, HVAC, packaging, and architectural. Bare Steel also caters by solution that includes cabinets, countertops, and steel structures. The custom capabilities we offer ensures your specific needs are met.
Cast Aluminum
Our cast aluminum services are completed with fine, state-of-the-art development processes to bring you quality applications, products, and prototypes for commercial and industrial environments. Bare Steel's services are sure to meet all technical requirements that are integral to the engineering of your aluminum cast products.
General Welding Repairs and Fabrication
We offer general welding repairs and fabrication for outdoor, auto, construction, and other metal materials that need bonding. Bare Steel uses B Pressure for strong holds and amazing results. Our team excels in tree stands, grills, tractor hitches, storage racks, and other custom construction tools.
CWB Certified
The welders and craftsmen at Bare Steel are certified by the Canadian Welding Bureau to assure you professionalism, quality, and reliability. You don't have to worry with us. We are equipped with up-to-date technologies to fulfill your custom steel orders, and are tested every two years to make sure we are representing our industry to the fullest.
Steel Stair Railings
Bare Steel manufactures steel stair railings if you need an entire replacement as opposed to a repair. Our sturdy design ensures safety and efficiency for business and industrial railings. This is part of the services Bare Steel offers to manufacturing plants to provide them with proper equipment installation in newer plants or those in differing stages of remodeling.
New Construction
Bare Steel has full capabilities when it comes to new construction which include bridge building and erecting buildings. The constructional steel construction we offer pays close attention to detail and goes above in beyond to provide the highest quality products to the Regina area. We pride ourselves in the wide range of skills we have in the steel and other material fabrication industry.
Manpower Supply
Surrounding plants and other industrial buildings in the Regina area look to Bare Steel for their heavy metal needs. Mobile welding and custom steel fabrication services help provide new establishments with the appropriate products to ensure efficient engineering and safety. By providing equipment and several repair services to these businesses, Bare Steel contributes to the smooth sailing of their inner workings and manpower supply. Let us know how we can help you and your industry today.